Grilled Asparagus w/ Lemon & Thyme. Preheat an outdoor grill on medium heat, and lightly oil the grate. Drizzle with olive oil and lemon juice, going from bottom to top of stalks. Mix together the lemon juice and shallots, then stir in enough olive oil to add a little body and take the edge off the sharpness of the lemon; the mixture should still be strong.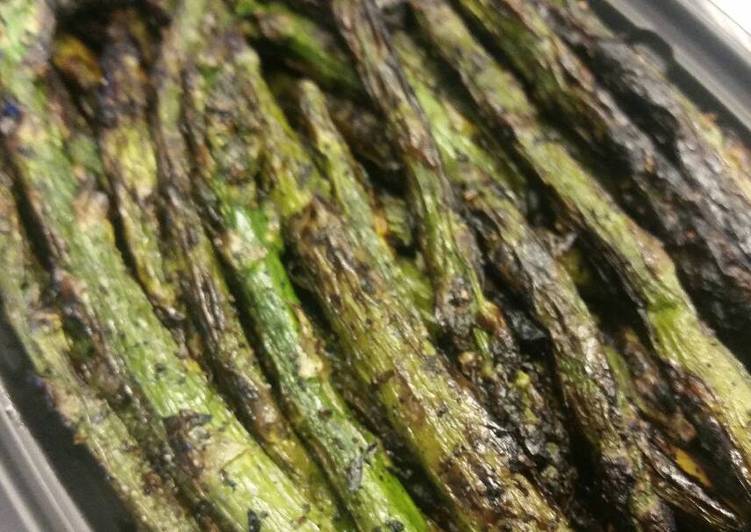 Lay the asparagus side by side and pierce with skewers to form a raft. Lightly coat the asparagus spears with olive oil. Season with salt and pepper to taste. You can cook Grilled Asparagus w/ Lemon & Thyme using 8 ingredients and 6 steps. Here is how you achieve it.
Ingredients of Grilled Asparagus w/ Lemon & Thyme
You need 1 bundle of asparagus; trimmed.
Prepare 3/4 C of sherry.
It's 1 t of fresh thyme; minced.
Prepare 1 t of garlic powder.
It's 1 t of onion powder.
Prepare 1 of lemon; zested & juiced.
You need as needed of kosher salt & black pepper.
You need as needed of walnut oil.
Grilled asparagus drizzled in a lemony garlic sauce – a perfect spring side dish!!! This dish is a snap to throw together with simple pantry ingredients, and will have you wanting more! I am admittedly ADDICTED to the spring asparagus in the stores right now!! It is too darn delicious, and I am even getting my kids to eat a stalk or two!
Grilled Asparagus w/ Lemon & Thyme instructions
Marinate asparagus in sherry for 1 hour. Pat dry..
Toss with enough walnut oil to coat. Lay flat on a sheet tray..
Season each side. Grill each side for approximately 2-3 minutes..
Transfer grilled asparagus to a bowl. Squeeze the juice from 1/2 a lemon over the asparagus. Cover. Let steam 5 minutes..
Garnish with lemon zest.
Variations; Rosemary, white wine, roasted or raw garlic, shallots, habanero, bacon fat, parmesean, romano, gruyere, sage, parsely, pesto, coriander seed, ginger, honey, lime, crushed pepper flakes, chives, balsamic vinegar, champagne vinegar, cumin, Italian seasoning or dressing, lemon peel seasoning, orange zest, white pepper, bell pepper, green beans, butter, brown butter, flavored oils, horseradish, fennel, dill, hoisin, leeks, mushrooms, mint, dijon, scallions, toasted walnut crumbs, red onion, spring onion, yellow onion, soy, sesame oil or seeds, tarragon, red wine vinegar, feta, white pepper.
Bend an asparagus stalk til it breaks and then line it up with the bunch and cut all to size. This get rid of the tough end. Mince the garlic and sprinkle over the asparagus, add lemon juice oil and salt and pepper. Place on the grill and cook. Add the Pecorino-Romano, lemon zest and juice.