Cucumber Lassi. Made with Cabot Plain Greek Yogurt, ice water, cucumber, turmeric, fresh lemon juice, a pinch of salt and a garnish of finely shredded mint, this cucumber drink is amazingly refreshing. For more adventurous lassi fans – and for a more pronounced yellow hue – feel free to use a heavier hand with the turmeric. How to make Cucumber Lassi – Ideal beverage during hot summer days.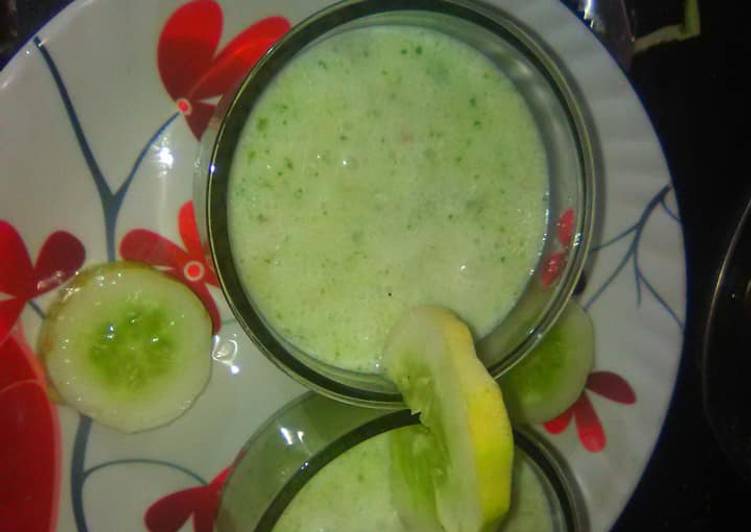 It is also a delicious beverage that works great along with a sumptuous meal! Don't forget to scroll down for a detailed review of my versatile bamix Baking set! Remove its skin and cut into small pieces. You can have Cucumber Lassi using 9 ingredients and 1 steps. Here is how you cook it.
Ingredients of Cucumber Lassi
You need of Ingredients for Cucumber Lassi Recipe.
It's 2 medium of Cucumber peeled and cubed.
Prepare 2 cups of Yogurt.
It's 2 inches of Ginger.
It's 2 tablespoons of Fresh coriander leaves chopped.
You need 2 of Green chillies.
It's 4 tablespoons of Sugar.
Prepare 1 pinch of Asafoetida.
You need to taste of Salt.
In a blender, add the chopped cucumber, curd / yogurt, ginger, green chillies, coriander leaves and salt. Lassi is a great soothing drink during the summer time. Today i have added cucumber, coriander leaves, green chilly (optional), ginger and salt to the lassi. It keeps you hydrated and flushes out the toxins.
Cucumber Lassi step by step
Blend together the cucumber, ginger, coriander leaves, green chillies, sugar, asafoetida and salt to a smooth paste. Add the yogurt and blend again. Pour into individual tall glasses, chill and serve.
The cucumber added to lassi makes it refreshing, cool and healthy. This time I have tried salted version and liked it a lot. You can also add little more water and enjoy it as cucumber buttermilk. This lassi is not only a morning drink but also can be had as appetizer before a meal. Salted Cucumber Lassi or namkeen kheera (kakdi) lassi is easy, quick lassi recipe with addition of cucumber, mint leaves, coriander leaves (cilantro) and ginger to take humble lassi to all new level.