Shoyu Chicken Stir-Fry. Here is how you cook it. Prepare of Chicken thigh fillets, sliced into strips. Prepare of Shoyu marinade (see related recipe).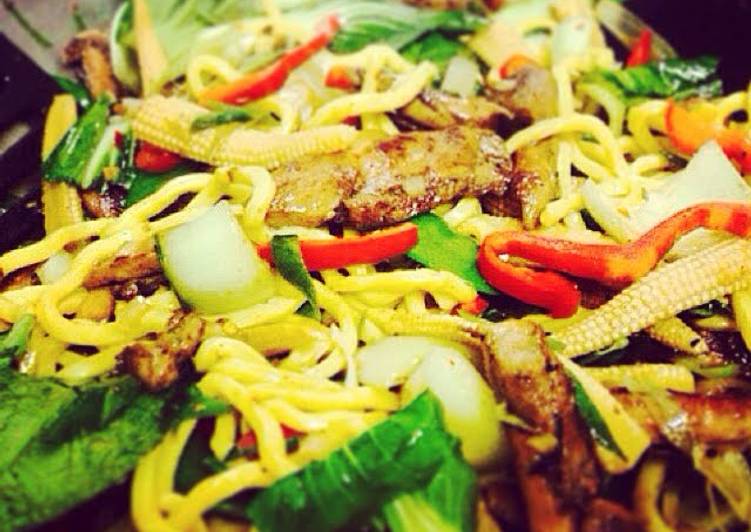 Toss the chicken pieces with some salt and pepper. In a skillet or wok, stir-fry the chicken with oil and ginger over high heat until no longer pink. Mix in the soy sauce mixture. You can cook Shoyu Chicken Stir-Fry using 9 ingredients and 6 steps. Here is how you achieve that.
Ingredients of Shoyu Chicken Stir-Fry
It's 500 grams of Chicken thigh fillets, sliced into strips.
You need 1 of Shoyu marinade (see related recipe).
It's 250 grams of Udon noodles.
It's 1 bunch of Baby bok choy, roughly chopped.
It's 400 grams of Can baby corn spears, washed & sliced in half lengthways.
It's 1 of Red capsicum (pepper), sliced.
It's 1 medium of onion, into wedges.
It's 2 stick of Green onion, sliced.
Prepare 1 of Sesame oil for frying.
Combine the ginger, chilli flakes, garlic, soy sauce, mirin and brown sugar in a medium pot, then add chicken breasts cut into large strips. Shoyu chicken is a popular dish in which chicken thighs are simmered in, you guessed it, shoyu. Sugar is traditionally added to the sauce to give it a sweeter taste, otherwise the saltiness from the shoyu would be overbearing. It is similar to teriyaki chicken but unlike teriyaki chicken, it is actually simmered in the sauce, not grilled or baked.
Shoyu Chicken Stir-Fry step by step
Marinate chicken for at least an hour. Shoyu marinade recipe attached. https://cookpad.com/us/recipes/480626-shoyu-chicken.
Heat oil in wok on full blast. Fry onion until browned and set aside..
Stir fry chicken in batches and set aside with onion..
Clean wok, then fry your veges for a few minutes until veges start to soften..
Add marinate liquid and and udon noodles. Cook through for 3 or 4 minutes. Don't forget you had raw chicken in marinate so cook through well..
Return chicken and onion to hear through and serve..
Using a wok or large frying pan, heat sesame oil over medium-high. When the oil starts to sizzle, add in the shoyu, vinegar, mirin, sugar, and ginger. Mix cornstarch and water until smooth. Then add the beef back into the hot pan and stir-fry everything for another minute. Add butter and soy sauce to pan and let it mingle.