Asparagus and lemon pasta. Remove skillet from heat and keep sauce warm, covered. Add pasta to boiling water and boil, stirring occasionally, until al dente. Penne will still be slightly firm.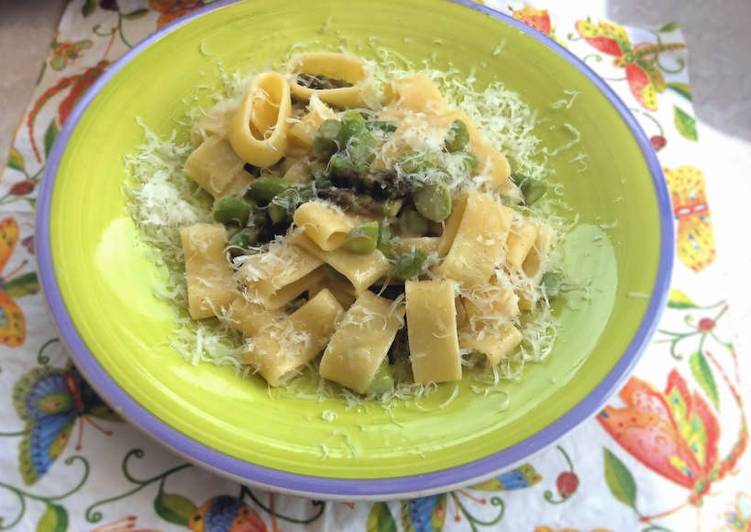 Top with a generous pinch of salt and freshly cracked pepper. Use a zester or small-holed cheese grater to zest the lemon onto the pasta. Once zested, slice the lemon in half and squeeze the fresh juice over the pasta. You can have Asparagus and lemon pasta using 6 ingredients and 5 steps. Here is how you achieve that.
Ingredients of Asparagus and lemon pasta
You need 2 of Serves.
You need 80 of –100g dried pasta per person (calamarata rings here).
It's 12-14 of fresh asparagus spears.
It's 3-4 tbsp. of butter.
It's 1 of lemon.
Prepare 30-40 g of freshly grated Parmesan.
Return the drained pasta and asparagus to the pan. Add the olive oil, lemon zest, lemon juice, ricotta, parsley and parmesan cheese. Cook the pasta in a large saucepan of salted boiling water. Drain and return the pasta to the pan to keep warm.
Asparagus and lemon pasta instructions
Put a large pan of salty water on the boil for the pasta. Break off the wooden ends of the asparagus and wash them thoroughly. Chop off the tips and reserve, slice the stems on the diagonal into about 1cm pieces..
Fillet the lemon – slice the top and bottom off the lemon. Run the knife along the sides from top to bottom, slicing off strips of the peel including the pith. Then cut out segments, running the knife in on the diagonal very close to the membrane – the segments should just drop from the fruit..
Put the pasta into the boiling water and cook according to the packet instructions. 3 minutes before the end of cooking time throw in the chopped asparagus. When ready, drain it into a colander, reserving a cupful of the cooking water..
Place a large pan or skillet over high heat. Add the butter, let it foam up, then add the asparagus tips. A minute later add the lemon pieces, turn up the heat and let the lemon dissolve. Mix in a third of the grated Parmesan..
Tip the drained pasta and asparagus into the pan, add some cooking water to make up the sauce, top with another third of Parmesan and toss it well in the sauce. Divide between plates and sprinkle with the remaining Parmesan..
Just before the noodles and asparagus are done, combine cream, lemon zest (not the juice yet), salt, and a generous amount of pepper in a small saucepan. Bring to a simmer over medium heat, stirring so it doesn't burn. Pour cream mixture over noodles, along with lemon juice, and stir to coat. Once finished cooking, remove from oven and roughly chop into thirds. Cook tortellini according to package directions.