Turkey and Vegetable Meatloaf. In a large skillet, saute the onion, carrots and celery in oil until tender. Crumble turkey over mixture and mix well. Whisk the egg and fresh herbs in a large bowl.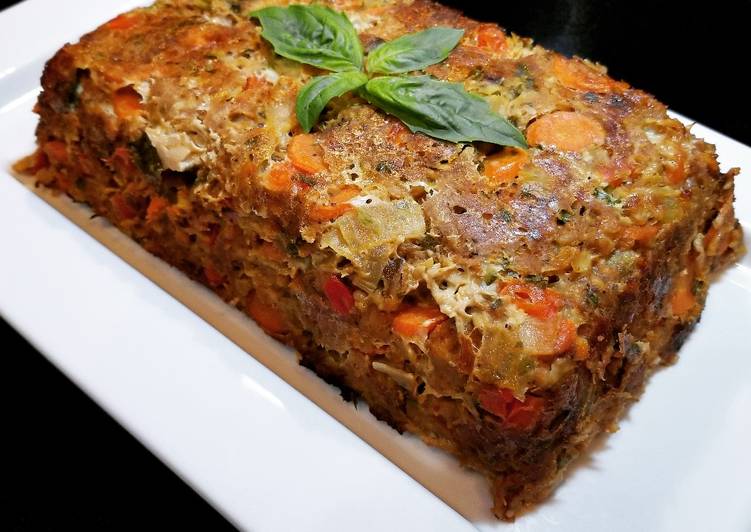 Place the ground turkey, sweet potato, egg, vegetable mixture, grated apple, mustard, thyme, oregano, salt, and pepper in a large bowl and mix with your hands until thoroughly combined, but do not overmix or the meatloaf will be tough. Transfer to the loaf pan and pat into an even layer. Place zucchini, onions, and red bell pepper into a food processor, and pulse several times until finely chopped but not liquefied. You can cook Turkey and Vegetable Meatloaf using 15 ingredients and 9 steps. Here is how you achieve it.
Ingredients of Turkey and Vegetable Meatloaf
Prepare 1 lb of ground turkey.
Prepare 1 cup of diced yellow onion.
Prepare 1 of zucchini shredded (be sure to squeeze out excess water).
You need 1 of celery stalk finely chopped.
It's 3 of carrots, finely sliced.
It's 1 cup of diced red bell pepper.
Prepare 1/2 cup of diced mushrooms.
It's 4 of garlic cloves, minced.
It's 3/4 cup of rolled oats.
Prepare 2 tablespoons of tomato paste.
You need 1/2 cup of fresh parsley, finely chopped.
Prepare 2 of eggs, lightly beaten.
Prepare 1/2 teaspoon of paprika.
It's 1 teaspoon of salt.
Prepare 1 teaspoon of pepper.
Place the vegetables into a bowl, and mix in ground turkey, couscous, egg, Worcestershire sauce, and Dijon mustard until thoroughly combined. Stir occasionally so the mixture doesn't burn. Combine the vegetable mixture with the ground turkey, egg and crumbs. Add onion and garlic and sauté until soft.
Turkey and Vegetable Meatloaf step by step
Preheat oven to 350 degrees. Coat loaf-sized baking pan/dish with olive oil or nonstick cooking spray..
Heat skillet with olive oil and sauté onion 3-5 minutes..
Add in carrots, celery and bell pepper, and cook an additional 3-5 minutes..
Add in zucchini, mushroom and garlic for another 3 minutes..
In a large bowl, combine the turkey, oats, parsley, eggs, tomato paste, paprika, salt and pepper. Fold in veggies..
Place into pan in a loaf shape..
Bake until brown 1 hour or so..
Remove from oven and let stand for 15 minutes..
Cut into 8 slices (2 slices = 1 serving)..
Add rest of the vegetables and cook until soft and some of the liquid has evaporated. In a mixing bowl, mix ground turkey, oatmeal mixture, chili sauce, Worcestershire sauce and sauteed veggies until well combined. Form into a loaf shape and place in a greased loaf pan or on a greased cookie sheet. Combine the ground turkey, bread crumbs, eggs, and onion mixture in a large bowl. Mix well and shape into a rectangular loaf on an ungreased sheet pan.