Pizza Sloppy Joes. Pizza Sloppy Joes If you're tired of same old boring sloppy joes, here's a tasty twist! These messy, kid-friendly sandwiches have a definite pizza flavor that families will love, but be sure to serve them with a fork! Connie Pettit – Logan, OH Heat olive oil in a large skillet over medium heat.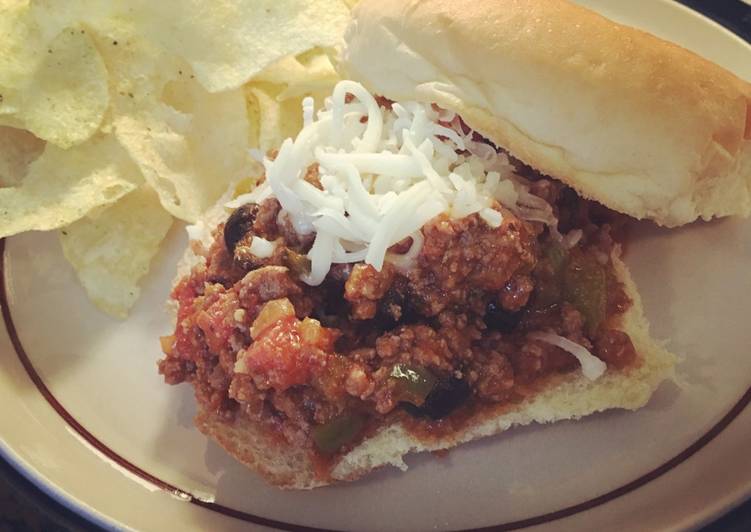 They're mounded with a good chunk of pizza-sauced ground beef and gooey mozzarella cheese. This is just the kind of meal that hungry kids want to eat for dinner, right? My boy thought they were awesome. You can cook Pizza Sloppy Joes using 10 ingredients and 6 steps. Here is how you cook it.
Ingredients of Pizza Sloppy Joes
You need 2 pounds of ground beef.
Prepare 6 oz of diced pepperoni.
It's 1/2 cup of minced green pepper.
Prepare 1/2 cup of minced onion.
You need 1 jar of marinara sauce.
Prepare 1 teaspoon of garlic powder.
You need 1 tablespoon of basil.
You need of Shredded cheese to top.
Prepare of Hamburger buns.
You need of Sliced black olives.
How to make pizza sloppy joes: Brown the ground beef in a large skillet with the salt, pepper and minced garlic. Stir in the Italian Seasoning, tomatoes, tomato sauce, sugar and pepperoni. Your kids won't believe what's for dinner tonight. Pizza Sloppy Joes take the classic sloppy joes up a notch with the addition of marinara sauce instead of the classic tomato paste and awesome pizza topping mix-ins.
Pizza Sloppy Joes step by step
Finely minced the onion and green pepper and sauté in a bit of oil or butter..
Add the hamburger and cook well..
Add the pepperoni and black olives if desired.
Drain the meat of any grease.
Add the marinara sauce and spices. Cook for at least 10 minutes more for flavors to blend well..
Serve on a roll and top with cheese.
You can adjust these as you'd like to. Want more Pizza Sloppy Joes flavors: Pizza Sloppy Joes Recipe – hamburger or sausage, pepperoni, mushrooms, pizza sauce – top with mozzarella cheese. Our new favorite way to eat sloppy joes! Chicken Legs is a big fan of Sloppy Joes. In a large skillet, brown ground beef, celery and onion.