Crispy Prawn with Lemon and Asparagus Sauce. Great recipe for Crispy Prawn with Lemon and Asparagus Sauce. Today I forgot to buy groceries, then I look into my fridge and I only have shrimp, lemon and asparagus. So I decide to make a dish from scratch, using ingredients I have in my kitchen.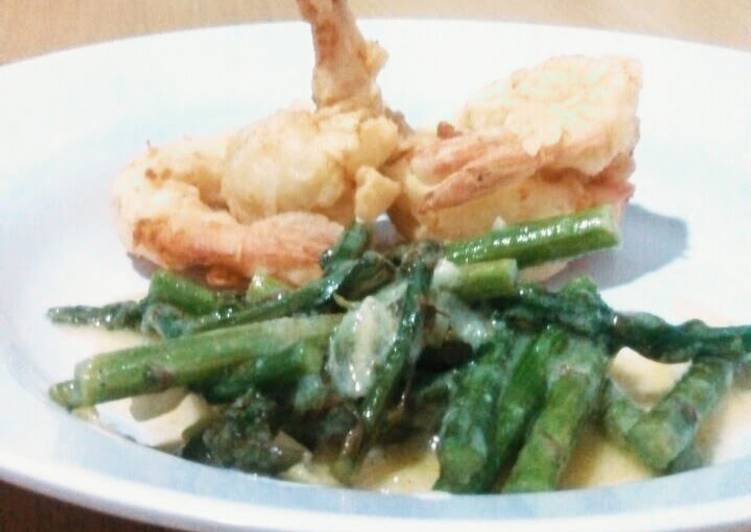 Crispy Prawn with Lemon and Asparagus Sauce instructions. Remove from oven and place shrimp on one side of the pan. Place shrimp in a single layer next to the asparagus. You can have Crispy Prawn with Lemon and Asparagus Sauce using 10 ingredients and 5 steps. Here is how you cook that.
Ingredients of Crispy Prawn with Lemon and Asparagus Sauce
It's 8 large of prawns, peel and remove head.
You need 1 bunch of asparagus, slice about 2 inches long.
It's 3 tbsp of fresh lemon juice.
Prepare 2 clove of garlic, finely minced.
Prepare 1 of scallion/ green onion, finely sliced.
It's 100 ml of milk/ cream.
It's 100 grams of flour.
Prepare 1 1/2 tbsp of butter.
You need of salt and pepper.
It's 1 of cooking oil (canola, corn, etc).
Top asparagus and shrimp with cubed butter. Push the grilled shrimp on the side and add asparagus back to the pan. Stir asparagus to coat them into the sauce and squeeze half of a lemon over the top of the grilled shrimp and asparagus. Remove grilled shrimp and asparagus from heat, garnish with parsley, lemon slices, and red crushed chili pepper if you like.
Crispy Prawn with Lemon and Asparagus Sauce step by step
Add 1 tablespoon lemon juice to prawn, add salt and pepper as needed. Stir..
Add salt and pepper to flour, stir..
Dip prawn into flour, deep fry until golden brown..
In other pan, heat butter, add garlic. Then add asparagus, milk, 2 tablespoon lemon juice. Stir. Add salt and pepper and the last add scallions. Remove from heat..
Put crispy fried prawn on plate, pour lemon sauce and ready to serve! Serve with potato mash or rice..
Add ginger and garlic and stir to combine with asparagus. Pour in lemon sauce mixture into frying pan with asparagus. Meanwhile, heat the cream, butter salt and pepper in a large skillet over low heat. Add the lemon zest, lemon juice and Parmesan and stir to combine. Add the (cooked, thawed) shrimp to the sauce.