Brad's greek style sloppy joes. A quick and easy recipe that will please everyone. Serve this on nice sourdough buns with a salad on the side, and sip a Greek beer to wash it all down. The ever-so-popular Sloppy Joe sandwich takes on a Greek flair with your choice of beef or lamb, bulgur, and feta cheese..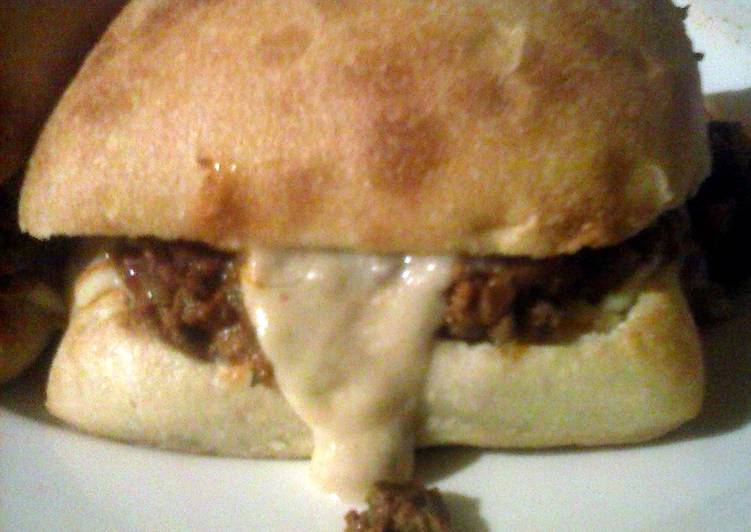 Add in the green peppers and onions. This is the perfect recipe for sloppy joes in my opinion. People complain about the reviews being overrated because this isn't all jazzed-up into something special. You can have Brad's greek style sloppy joes using 23 ingredients and 9 steps. Here is how you cook that.
Ingredients of Brad's greek style sloppy joes
You need 2 lb of ground beef.
It's 1/2 lb of breakfast sausage.
You need 2 clove of fresh garlic minced.
Prepare 1 medium of onion diced.
You need 1/4 cup of diced red pepper.
Prepare 1 cup of tomato sauce.
You need 14 oz of can of diced tomatoes, drained.
Prepare 1/4 cup of balsamic vinegar.
Prepare 1 of cube chicken bouillon, reserve half for bechamel sauce.
It's 2 tbsp of fresh lemon juice.
Prepare 1/2 tbsp of each cinnamon, mustard, dried mint, oregano, thyme, rosemary, salt, pepper.
Prepare 1 of bay leaf.
Prepare 1 tsp of nutmeg and paprika.
It's 2 tbsp of brown sugar.
It's 6 of ciabatta rolls.
It's 1 of feta cheese.
Prepare of bechamel sauce.
You need 1/2 stick of unsallted butter.
Prepare 4 tbsp of flour.
You need 1 3/4 cup of warm milk.
Prepare 1 of other half of chicken bouillon cube.
Prepare 2 of eggs beaten.
Prepare 1 of salt pepper paprika cinnamon nutmeg to taste.
Well what do you expect, it's only sloppy joes! I haven't had sloppy joes in years, and I am so glad I chose this recipe to finally have a taste of some. These sandwiches have been the go-to meal for my son's basketball team. Turkey is a wonderful change from ground beef and really absorbs all the flavors.
Brad's greek style sloppy joes step by step
in a large skillet heat a bit of olive oil. add onion garlic and red pepper. saute for 3-4 minutes..
add beef and brown. when meat is cooked, drain any excess fat..
add to skillet; diced tomatoes, tomato sauce, lemon juice, bouillon, vinegar, all spices, bay leaf, and brown sugar..
bring to a boil and reduce heat. simmer on low for 10-15 min. or until sauce reduces to a thicker sloppy joe sauce. if u are in a hurry, add a little tomato paste at this point and it will speed up the process..
meanwhile start the bechamel sauce by melting butter in a sauce pot. add flour and cook roux until it browns and has a nutty aroma. stir constantly.
add warm milk to roux stirring constantly. if u add to fast flour will get lumpy.
when all milk is mixed in bring mix to a bubble. stir often. when bubbly add half of the mix to the beaten egg slowly while stirring egg. whisk egg and sauce together and slowly add back to the sauce pot. when all is incorporated back together take off heat and let cool. season to taste with above seasonings..
while sauce is cooling toast buns. plate bottom bun. add dijon mustard if desired. pour sloppy joe mix on bun. top with bechamel sauce. top with feta cheese. add top bun. and get a napkin. I served with a greek salad. lets face it i have to offset this bad boy somehow..
enjoy.
When I got married fifteen years ago, I didn't really have a lot of cooking skills. Cooking for me was opening a can, or frozen bag of something and heating it up. This recipe is inspired by the quasi-American culture that once predominated along the coastal towns of the Athenian Riviera, especially fun places like Glyfada, that had some of the best burger and meat joints in greater Athens. It's my homage to that time, a clearly hybrid dish inspired by the classic Sloppy Joe, christened Yianni! This was my Grandma's recipe for Sloppy Joes.