Asiago and Asparagus Barley 'Risotto'. Great recipe for Asiago and Asparagus Barley 'Risotto'. This twist on traditional risotto is delicious and creamy. It works well with most green vegetables, try broccoli, green beans, kale or even brussels sprouts but adjust their cooking times accordingly) Stir in the remaining broth, ½ cup of the cream and the asparagus.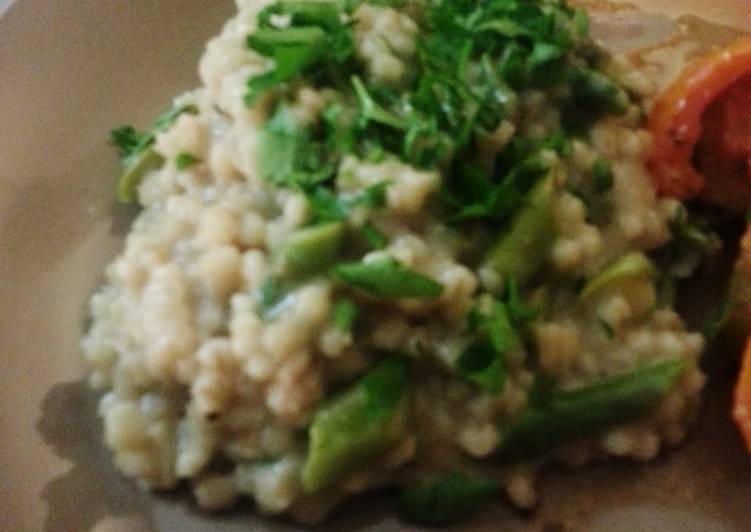 Add the asparagus and garlic and. Asparagus & barley risotto Asparagus & barley risotto Plenty of other grains work well in risotto. Wholegrain spelt gives a nice, nutty texture, as does farro, a grain that's widely used in Italian dishes. You can cook Asiago and Asparagus Barley 'Risotto' using 11 ingredients and 10 steps. Here is how you achieve that.
Ingredients of Asiago and Asparagus Barley 'Risotto'
Prepare 1 1/2 tbsp of olive oil.
Prepare 1 tbsp of butter.
You need 1 large of yellow onion (medium diced).
Prepare 2 clove of fresh garlic (minced).
You need 1 1/2 cup of pearl barley (check for pebbles).
You need 1 cup of white wine.
It's 6 cup of chicken broth (may need a cup more).
Prepare 1 bunch of fresh asparagus (cut into bite size).
You need 1 of generous handful of fresh asiago.
Prepare 1 of fresh black pepper, to taste.
Prepare 1 of salt, to taste (I prefer Fleur de sel with herbs de Provence).
Add the hot stock a little bit at a time, adding just enough to cover the surface of the barley. Remove from the heat and stir in the parmesan, asparagus, and herbs. Warm the broth in a small saucepan over low heat. Meanwhile, heat the oil in a large saucepan over medium heat.
Asiago and Asparagus Barley 'Risotto' instructions
In a preheated dutch oven or heavy bottom pot, melt butter into olive oil at medium heat. Add the chopped onion and saute until translucent..
In separate pot over medium low heat warm the chicken broth. Do *not* boil. You just want it hot..
To the dutch oven–Add garlic and season with salt and pepper (you will season again before finished, so don't overdo it).
After onion and garlic have cooked down and started to change colour, add the pearl barley and continue to cook for 4-6 minutes until fragrant (barley will start to smell slightly 'toasted' after its heated through) *before adding barley, I always pick through and look for pebbles, there's usually one or two that sneak through the packaging process*.
Once the barley is hot and toasty, add wine all at once and let it reduce for a few minutes..
Start adding the hot broth, a cup at a time, stirring frequently. Each time you add broth, stir until it absorbs into barley. It will start looking creamier and thicker with each cup of broth..
After adding the 6th cup and cooking down, check barley for doneness. At this point, you may need to add another cup of broth and cook until barley is 'al dente'. *Note-Barley has a chewy texture, much different from rice but that's why this recipe is delicious*.
Once barley is done add asparagus and cook until tender and bright green 5-7 minutes..
Lastly, add fresh grated asiago to your taste (keeping in mind it's fairly salty) and season with salt and pepper..
Serve topped with fresh chopped parsley aside steak, chicken or pork chops..
Heat the oil in a large skillet over medium-high heat. Follow recipe, cooking onion in pressure cooker, uncovered, then adding barley and wine as directed above. Fold in the peas, asparagus and Parmigiano-Reggiano, and season with salt and pepper. Add more broth if needed to reach the desired consistency. Slow Cooker Asiago and Asparagus Risotto