Stir-Fry Asparagus & Bean Sprouts & Bacon. Season with salt and lemon juice. In a nonstick skillet or a wok, heat the oil over high heat. Add the asparagus, salt, and pepper.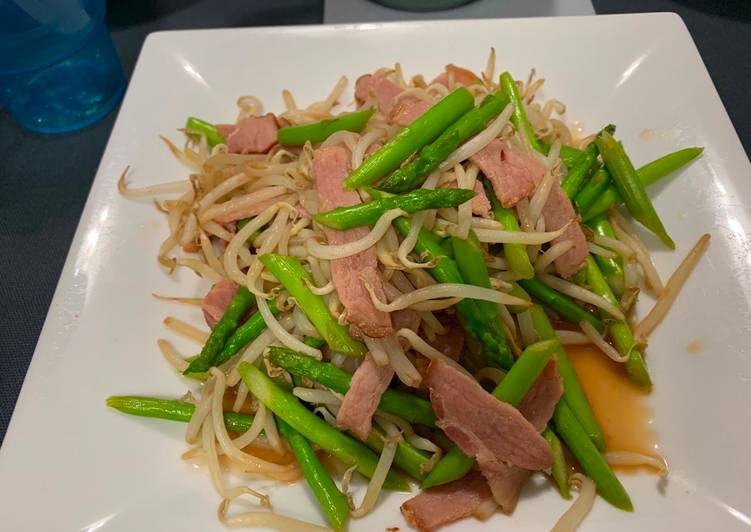 Immediately add asparagus; season lightly with salt. Push the asparagus to the sides of the wok. Add the asparagus, season generously with salt and pepper and stir well, making sure the asparagus is coated and glistening with oil. You can have Stir-Fry Asparagus & Bean Sprouts & Bacon using 6 ingredients and 4 steps. Here is how you achieve it.
Ingredients of Stir-Fry Asparagus & Bean Sprouts & Bacon
Prepare 150 grams of Asparagus.
You need 100 grams of Bean Sprouts.
Prepare 40 grams of Bacon.
Prepare 1/4 tsp of Salt.
It's 2 tsp of Soy sauce.
Prepare 1 tsp of Oil.
Add the cooking sherry plus the carrots and mushrooms. Place it immediately in ice water. Coarsely chopped a few cloves of garlic, and sauteed until it turns aromatic. Add the blanched asparagus, sauteed over high heat for a minute.
Stir-Fry Asparagus & Bean Sprouts & Bacon instructions
Fold the base of Asparagus by hand. (The base of Asparagus is hard, so peel the skin and use. Or throw away.) Cut the Asparagus soft side into diagonally..
Cut the bacon into 1 cm strip..
Heat a pan with oil. Fry the bacon until the color changes. Then add the Asparagus and fry it until the color becomes vivid..
Add the bean sprout, salt, soy sauce and stir fry quick. (Within 1 mitute).
Set wok over high heat and add vegetable oil. Add dried peppers and let sizzle, then add asparagus, tossing well to coat. Stir-fry for a minute or so, then add chile. In a small bowl, combine the cornstarch, sugar, broth and soy sauce until smooth; set aside. Heat oil in heavy large skillet.