Potato Stuffed Naan recipe.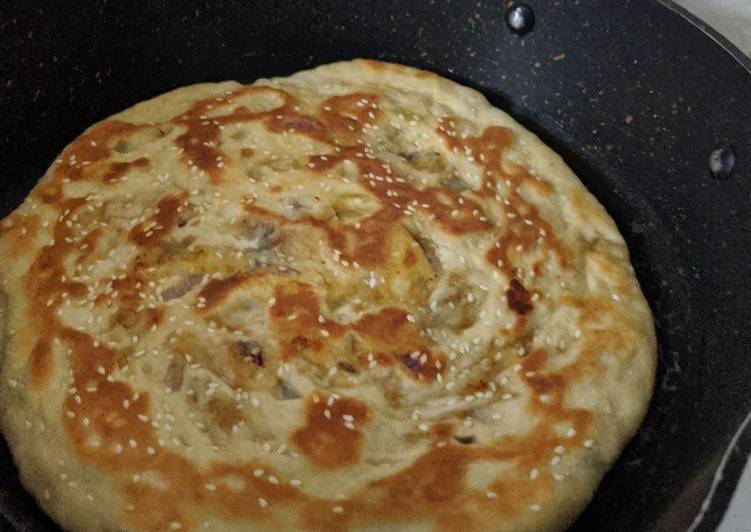 You can cook Potato Stuffed Naan recipe using 21 ingredients and 11 steps. Here is how you cook that.
Ingredients of Potato Stuffed Naan recipe
You need of Naan dough.
You need 300 g of self raising flour.
Prepare 0.5 of egg (not essential).
You need of Up to 50 ml Milk (can be any type).
Prepare 10 ml of olive oil (not essential).
You need 15 g of sugar.
It's 10 g of salt.
You need 1.5 g of yeast (very essential).
You need of Potatoes mix.
It's 100 g of Peeled Potatoe (raw).
It's 30 g of onions finely chopped.
Prepare of Hand full of corriander finely chopped.
Prepare of Few leafs of mint, fine chopped.
It's to taste of Salt.
It's 0.5 g of gram masala.
It's 0.25 of corriander powder (not essential).
It's of Medium spice.
You need 2 g of Red chilli powder (as much as you can handle).
You need of Dry red chilli flakes.
You need of High spice.
You need of Add one to two green chillies finely chopped.
Potato Stuffed Naan recipe instructions
Take 25ml of water and mix the yeast, salt and sugar. Stir and leave for 5-10 mins..
Add egg to the flour and the yeast water mix, if the flour is still dry add milk up to 50ml max. Add oil if you like but not essential..
Mix the dough and if required add water to collect the flour together..
Leave the dough to raise for two hours and then just store away in the fridge over night or a few hours (1-3 hrs) depends on how impatient you are..
When making naans leave the dough outside to get to normal temperatures for few minutes..
While making the mix, boil the potatoes and mash it up. Add all the ingredients to the mix and spices. If making high spiced mix please add all the ingredients from low + medium + high spice. For medium add the ingredients from low and medium. (I'm sure you get the point)..
Once it's all prepared, create two dough balls (30-50g each) and flatten them a little. Take one of them and add some mix in the middle (take as much you can fit) then place the other one on top and close it up. Once that is done please add some sesame seeds on top of the naan..
Spread some dry flour on both sides and start rolling. Once it's of reasonable size, pre heat the pan (nonstick) to atleast 100C. Add a bit of oil or butter If you like but not essential. Add the naan on the pan..
Lower the heat to allow the naan to cook for 2 mins on either side. Please use your own judgement on the timing but you need to look out for a bit of browning of the naan on either side..
Once the naan is cooked from either side, add some cheese on top and put it in the oven until the cheese melts. (Not essential).
P.S. ***The naan wil break a little while rolling but not to worry it's normal and due to the onions. ***If the naan remains a little uncooked on the pan just give it a 5-10 minutes in the oven at 200 C..