Hawiian Chicken with Creole Asparagus. Hawiian Chicken with Creole Asparagus a nice sweet and spicy combination. Arrange the chicken breast pieces in the center of the pan and brush each piece with vegetable oil. Season the chicken with Creole seasoning.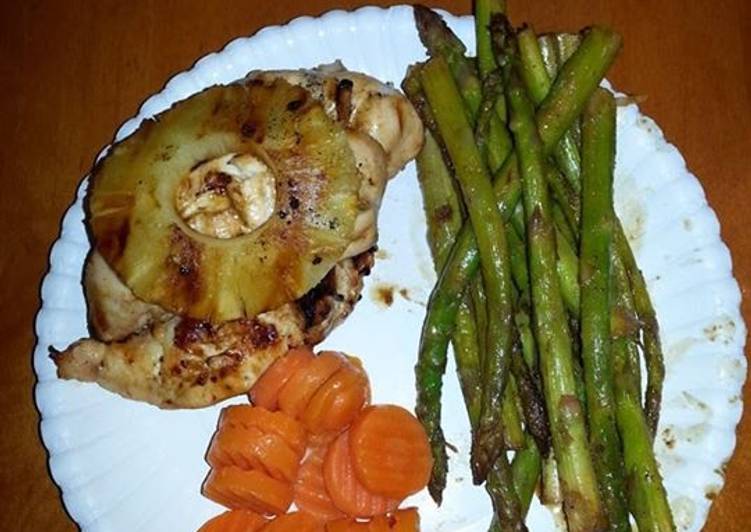 Mix the rest of ingredients together in a bowl and pour over the chicken to cover it. Serve over rice and with a vegetable! Once all dished are complete, place the sweet and sour Hawaiian chicken on the plate next to the savory garlic asparagus and serve warm with the almond slivers on top as garnish and enjoy! You can have Hawiian Chicken with Creole Asparagus using 9 ingredients and 3 steps. Here is how you cook that.
Ingredients of Hawiian Chicken with Creole Asparagus
You need of Chicken.
Prepare 5 of Boneless Chicken Thighs.
You need 1 of bottle Hawiian Marinade, I use Lawry's.
You need 1 of Sliced Pineapple, Optional.
You need of Asparagus.
It's 1 of Bundle Asparagus.
It's 1/2 of Lemon.
Prepare 1/2 of Lime.
Prepare 1 of Creole Seasoning, According to your taste.
On a side note: The Hawaiian sweet and sour chicken is wonderfully delicious the next day. Stir in bacon, pepper and sesame seed. Hawaiian Chicken is like a cross between a sweet and sour chicken and a brown sugar chicken. It has a sweet sticky sauce, and delightful chunks of pineapple and peppers, served over white rice.
Hawiian Chicken with Creole Asparagus step by step
Marinate the chicken thighs for about an hour..
Cook on the BBQ for about 5 minutes on each side. Grill the pineapple for about 3 minutes on each side (One slice for each chicken thigh)..
For the asparagus; pour a dash of olive oil in a frying pan. Trim the bottoms of the asparagus and line them in the pan. Squeeze the lemon and lime juice over the asparagus. Shake the creole over the asparagus and cook until desired texture (some like it crunchy, some like it mushy).
I don't know about you guys, but I could always use a vacation to the beautiful islands that make up Hawaii. Unfortunately, I can't get there nearly. Rinse chicken and pat dry, add to a large bowl and coat with remaining ingredients. Baste chicken with extra Kikkoman Teriyaki Marinade & Sauce. For the chicken: Combine the soy sauce, water, brown sugar, garlic, sesame oil, coconut milk and pineapple juice, then pour into a container or resealable bag.