White Chicken Chili.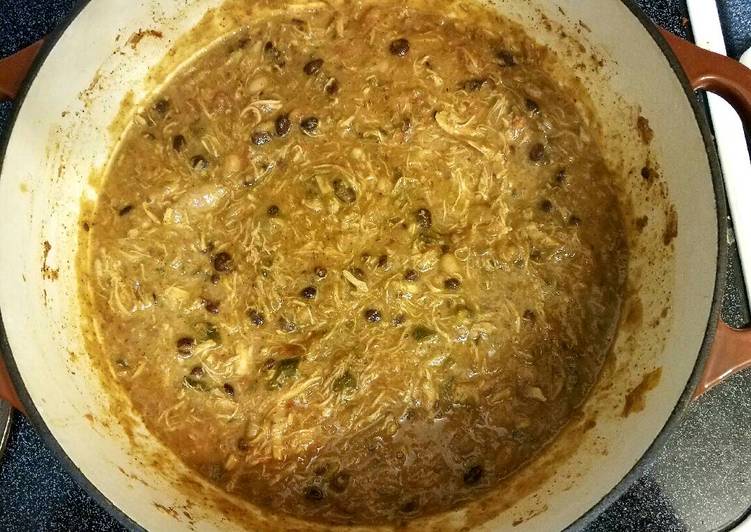 You can cook White Chicken Chili using 29 ingredients and 11 steps. Here is how you achieve that.
Ingredients of White Chicken Chili
Prepare of Roasted Chicken Ingredients.
It's 3 of chicken quarters.
Prepare of Bbq chicken rub mix (see my recipe).
You need of cayenne pepper powder.
It's of Chili Base Ingredients.
Prepare 1 of large sweet onion.
It's 3 cloves of garlic.
You need 2 of poblano peppers.
You need 1 tablespoon of chili powder.
Prepare 2 teaspoons of ground cumin.
You need 1/2 teaspoon of ancho chile pepper.
Prepare dash of Adobe seasoning.
It's dash of sazon seasoning.
You need 1 teaspoon of ground coriander.
It's 1 can of rotel.
Prepare 1 can of chopped green chile's.
Prepare 1 can of great northern beans (drained and rinsed).
It's 1 can of black beans (drained and rinsed).
You need 1 can of chicken broth low sodium.
You need of White sauce ingredients.
You need 2 tablespoons of all purpose gluten free flour.
It's 1/2 cup of low fat goats milk.
You need 1 can of chicken broth low sodium.
It's dash of mustard powder.
You need dash of sweet paprika.
You need dash of red pepper flakes.
It's 1 teaspoon of ground cumin.
It's 1 teaspoon of dried chives.
Prepare 1/2 teaspoon of dried cilantro.
White Chicken Chili instructions
Cook in 3 steps, roast chicken, simmer the chili base and make the white sauce..
Dust the chicken with the barbecue rub and cayenne pepper on both sides..
Roast the chicken at 385 covered for 2 hours then uncover and cook for another 30 minutes..
Now that the chicken is in the oven start making the chili base. Chop the onion, poblano and garlic. Sweat in a dutch oven covered for 20 minutes..
Add the remaining ingredients of the chili base and bring to a simmer..
When the chicken is done and cooling start making the white sauce by adding 1 tablespoon of the chicken drippings a splash of canola oil and 2 tablespoons of the AP GF flour to a sauce pan. Regular AP flour can be used if preferred..
Cook the flour in the oil for 10 minutes or until the raw taste is gone..
Slowly incorporate the chicken broth, goat's milk and seasonings whisking continuously. Do not allow to boil! The sauce should be slightly thick, enough to coat a spoon but still be liquid – we're not making sausage gravy here 🙂 Cover and keep warm..
Shred the chicken and add to the chili base..
Add the white sauce to the chicken and chili base. Return to a simmer cook for 30 minutes then remove from heat..
Cool to desired temperature and serve over cornbread..