Ham and asparagus casserole. Drain noodles; add the ham, parsley, sauce and asparagus. Top with fried onions and cheese. In a large bowl combine the onion, bell pepper, cheese, tapioca, parsley, lemon juice, soup and milk; mix well.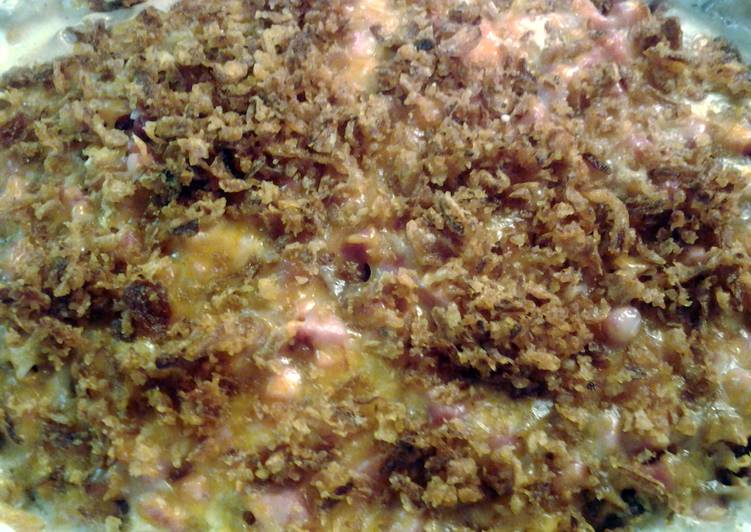 Combine soup and stock and pour over casserole. Mix the ham, onion, red bell peppers, and asparagus in the prepared baking dish. In a large bowl, beat together the eggs, milk, flour, Parmesan, tarragon, salt, and pepper. You can cook Ham and asparagus casserole using 9 ingredients and 11 steps. Here is how you achieve that.
Ingredients of Ham and asparagus casserole
Prepare 1 bunch of green asparagus.
It's 1 bunch of green onions.
You need 1 cup of mushrooms.
It's 1 can of low fat cream of mushroom soup.
You need 1 cup of low fat sour cream.
Prepare 2 tbsp of water.
Prepare 2 cup of shredded cheddar jack cheese.
You need 2 cup of cooked ham.
Prepare 1 1/3 cup of dried crispy fried onions.
Stir in cheddar cheese and remaining Parmesan until blended. Sprinkle ham and asparagus over spaghetti crust. In large mixing bowl combine asparagus, ham, egg, tapioca, green pepper, onion, mushrooms, and cheese. Then, combine the stuffing, cheese, asparagus, and ham in a large mixing bowl.
Ham and asparagus casserole step by step
Dice the ham and saute to thoroughly cook. Set aside..
Wash and rinse asparagus. Cut woody ends off and discard. Cut spears into 2 to 3 inch pieces and set aside..
In a medium bowl stir the soup, sour cream and water together..
Cut the roots off the onions and trim the stem tops. Dice the onions and stems and place them in the bowl with the soup..
Slice the mushrooms and mix with the soup, sour cream and green onions. Set aside..
Shred cheese into a separate bowl and set aside..
Measure the commercial crispy fried onions and set aside..
Assemble the casserole. Use 1/2 the ingredients – from bottom to top layer: asparagus > soup mixture > ham > cheese > fried onions..
Repeat step 8 to build next tier except don't add final fried onion layer..
Bake covered for 30 minutes at 350°F..
Add the rest of the fried onions and bake uncovered 5 minutes. Turn off oven and let casserole stand 15 minutes in cooling oven to set..
Ham and asparagus casserole is a delightful dish that can be served for dinner, lunch, or even brunch! It has a quiche-like texture, and it's the perfect comfort food. Transform it into a leftover ham recipe during the holidays or make it just because you are craving it. This dish, Ham and Asparagus Casserole, is also a favorite, especially in the spring with fresh-to-market asparagus. A great weeknight meal following Easter.