Spiced baked chicken. Sprinkle evenly with the spice mixture. Honey & Spice Baked Chicken Bring summertime flavor to the table any time of year with this moist chicken entree that will remind you of backyard barbecues. The hint of heat is tempered by sweet honey, but for pickier palates, simply decrease the cayenne pepper. —Lisa Gnyp, Shelby Township, Michigan DIRECTIONS.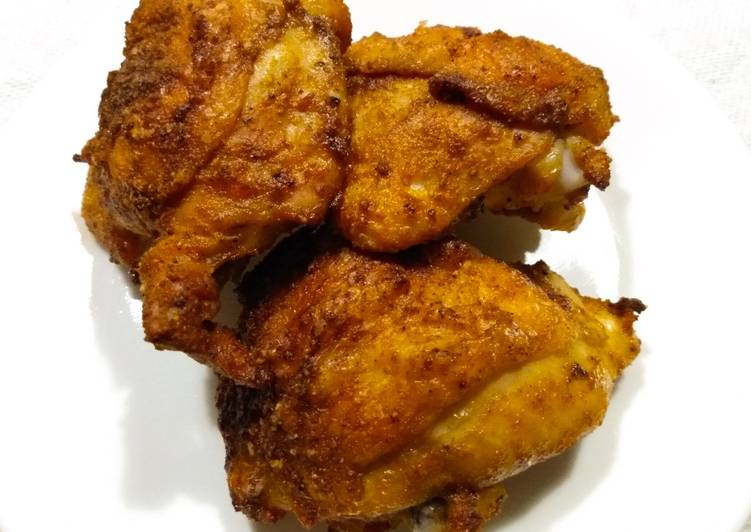 Rub the spice mixture all over the chicken. Step-by-Step Place chicken breasts in roasting pan, Rub the skin well with the crushed garlic,then discard garlic. Wipe the chicken thighs with paper towels. You can have Spiced baked chicken using 9 ingredients and 3 steps. Here is how you cook that.
Ingredients of Spiced baked chicken
You need 1 1/2 tsp of salt.
Prepare 1 tsp of garlic powder.
Prepare 1/2 tsp of onion powder.
Prepare 1/2 tsp of chipotle powder.
It's 1/2 tsp of smoky paprika.
It's 1/2 tsp of cracked black pepper.
Prepare 1/4 tsp of ground cumin.
You need 1/2 tsp of ground cayenne.
It's 6 of chicken thighs, bone-in and skin-on.
Place them in a baking dish. Prepare the rub: In a small bowl, combine the olive oil and spices to create a thick paste. Pour the paste over the chicken thighs and, using your hands, rub it well into the chicken pieces, on all sides. After you're hooked on this Baked Sweet and Spicy Chicken, you'll wanna try Instant Pot Parmesan Chicken and Rice with Mushrooms, Sheet Pan Balsamic Chicken with Potatoes and Carrots, and Asparagus Stuffed Chicken.
Spiced baked chicken instructions
Combine the first seven ingredients plus half the cayenne. Toss the chicken with the spice blend until coated. Lay the chicken skin-side up on a foil-lined baking sheet and refrigerate for at least 2 hours..
Add the remaining cayenne plus a pinch of salt to a few tbsp veg oil. Stir to combine. Brush the oil on top of the chicken thighs..
Preheat your oven to 425 F and bake the chicken for 30 minutes or until the internal temperature reaches 165 F. Serve immediately..
Pour brown sugar, paprika, oregano, garlic powder, salt, and pepper into a galloon plastic bag. Add chicken breasts and shake to coat chicken. In a small bowl, combine spices. Season chicken with salt and pepper, then rub all over with spice mixture. Place in a large Dutch oven or heavy pot with a tight-fitting lid.