Curried Chicken and Cauliflower. Add a little stock or water if the sauce gets too thick. Check the seasoning, and add salt and/or pepper as required, then stir through the spinach until it just starts to wilt. Serve the curry into warmed bowls with cooked rice, and/or Naan bread or chapattis on the side.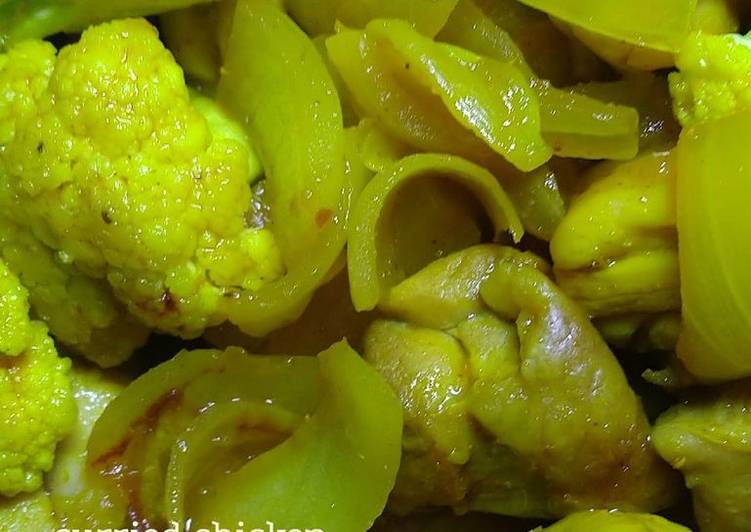 Add chicken and cauliflower; shake to coat. Return the chicken to the wok or skillet; stir to coat with the sauce. If the sauce seems too thick, add water as needed. You can have Curried Chicken and Cauliflower using 11 ingredients and 3 steps. Here is how you cook that.
Ingredients of Curried Chicken and Cauliflower
Prepare 250 gr of chicken thigh fillet, diced.
It's 250 gr of cauliflower florets, cut into pieces.
It's 1 of onion, diced.
It's 2 of garlic, sliced.
It's 2 tsp of curry powder.
Prepare 1 tsp of honey.
You need 1/2 tsp of vinegar.
It's 1/2 tsp of salt.
It's 1/2 tsp of crushed black pepper.
You need 1/2 tbsp of bouillon powder.
Prepare 1 tbsp of oil.
Add in diced onion, garlic, grated ginger, and cauliflower florets. Both, chicken and cauliflower are cooked fairly quickly. Using an immersion blender, blend the base of the curry until smooth. Alternatively, remove from heat, transfer the curry to a blender, blending until smooth.
Curried Chicken and Cauliflower instructions
Heat oil in a pan. Add chicken until half-cooked. Add garlic and onion and stir occasionally..
Add cauliflower and other ingredients except honey and vinegar..
Stir until well combined. Add honey then vinegar. Adjust the taste if necessary..
Turn the heat to high again and bring the curry back to a boil add the cauliflower. Make a few slashes in each of the chicken thighs, coat each thigh in the curry paste. Arrange in a large roasting tin and spray with low calorie cooking spray. Toss the cauliflower florets into any remaining paste and add to the tin around the chicken thighs. Cook until tender but still firm.