Lemon Zest Salmon & Asparagus. If you're looking for an easy salmon recipe for grilling or broiling, this is it. Originally published in the New York Times, and then adapted by famed Southern Chef Virginia Willis, this recipe uses fresh herbs and lemon zest to bring out the flavor of salmon. And it could go on any fish: tilapia, swordfish, halibut, even fresh Georgia trout.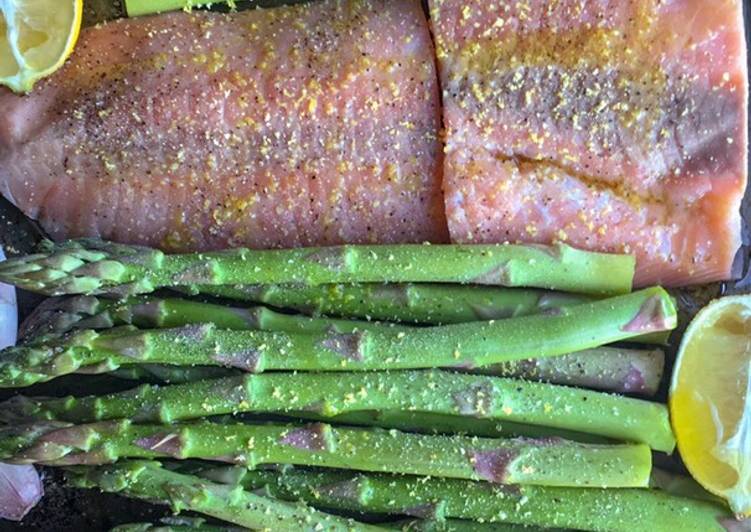 In a small bowl or measuring cup, mix together the lemon juice, lemon zest, extra virgin olive oil, garlic, oregano, paprika and black pepper. Give the sauce a good whisk. Prepare a sheet pan lined with a large piece of foil (should be large enough to fold over salmon). You can have Lemon Zest Salmon & Asparagus using 6 ingredients and 5 steps. Here is how you achieve that.
Ingredients of Lemon Zest Salmon & Asparagus
Prepare 4 pieces of Salmon.
You need 1 bunch of Asparagus.
Prepare 4 cloves of garlic.
Prepare to taste of Salt and pepper.
You need of Olive oil (drizzled).
You need 1 of lemon.
Brush top of the foil with extra virgin olive oil. Drizzle with the olive oil and stir until the crumbs are. Using a shallow grater, remove zest from one lemon. Cut the lemon half, squeeze out the juice from it.
Lemon Zest Salmon & Asparagus step by step
Preheat the oven to 425°F.
Place fresh or frozen salmon, garlic cloves, and fresh asparagus on a baking sheet. Season lightly with salt and pepper, zest of one lemon (more on the dry side), and drizzle with olive oil..
After zesting lemon, cut in half and add to the baking sheet..
Bake for 20 minutes!!.
Enjoy!.
Sprinkle the salmon steak with zest of citrus fruit and pour it with lemon juice. Place the salmon on the baking dish (skin side down if your fish has skin). Season the salmon on both sides with salt and black pepper. In a small bowl, melt the butter and stir in the garlic, lemon zest, lemon juice and fresh dill. Let the flavored butter cool for about a minute.