Chicken biryani.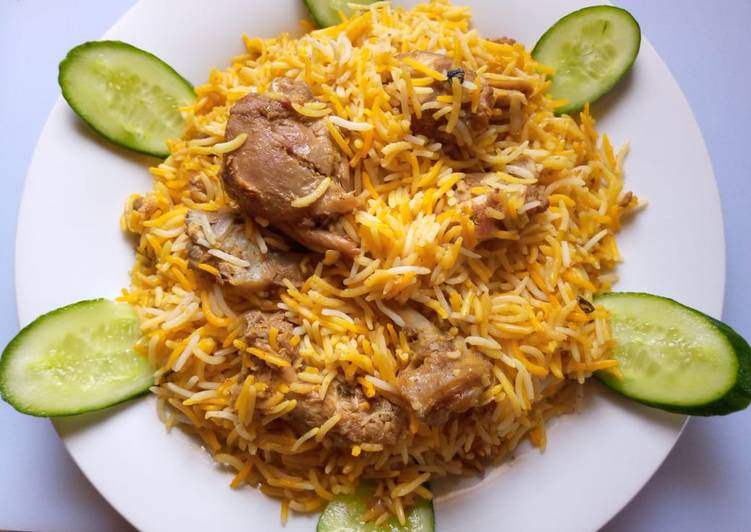 You can have Chicken biryani using 24 ingredients and 7 steps. Here is how you cook it.
Ingredients of Chicken biryani
You need 750 g of chicken, skin on, bone in, halved along bone.
It's of MARINADE:.
Prepare 2/3 cup (150 ml) of yoghurt, plain.
You need 1/2 cup (125 ml) of water.
It's 2 tbsp of vegetable oil (or other plain oil).
You need 6 of garlic cloves, minced.
It's 2 tsp of finely grated fresh ginger.
You need 1/8 tsp of ground turmeric.
You need 1/4 tsp of cinnamon.
It's 1/2 tsp of ground cardamom.
Prepare 2 tsp of garam marsala.
Prepare 2 tsp of coriander.
Prepare 1 tbsp of cumin.
Prepare 2 tbsp of paprika, sweet / ordinary (not smoked).
It's 1 3/4 tsp of salt.
Prepare 2 tbsp of salt.
Prepare 10 of cloves.
You need 5 of dried bay leaves.
Prepare 6 of green cardamon pods.
Prepare 2 1/4 cups (450 g) of uncooked basmati rice.
Prepare 1 tsp of saffron.
Prepare 2 tbsp of warm water.
You need 1 cup of coriander / cilantro, chopped.
You need 1/4 cup (60 g) of ghee or unsalted butter, melted.
Chicken biryani step by step
Mix Marinade in a large pot. Add chicken and coat well. Marinade 20 minutes to overnight..
PAR BOILED RICE: Bring 3 litres / 3 quarts water to the boil, add salt and spices. Add rice, bring back up to the boil then cook for 4 minutes, or until rice is just cooked still a bit firm in the middle. Rice will taste salty at this stage, disappears in next stage of cooking.Drain immediately. Set aside,.
SAFFRON: Place in a bowl, leave for 10 minutes..
BIRYANI: Place pot with chicken in it onto a stove over medium heat. Cover and cook for 5 minutes. Remove lid. Cook for 5 minutes, turning chicken twice. Remove from heat..
Turn chicken so skin side is down – it should cover most of the base of the pot.Scatter over half the onion then half the coriander. Top with all the rice. Gently pat down and flatten surface. Drizzle saffron across rice surface in random pattern, then drizzle over ghee..
Place lid on. Return to stove over medium heat. As soon as you see steam, turn down to low then cook for 25 minutes. Remove from stove, rest with lid on for 10 minutes..
Serve hot..