Homemade Cranberry Sauce Batch 2. What makes this cranberry sauce healthier? Canned or jarred cranberry sauce is filled with TONS of sugar, artificial ingredients, high fructose corn syrup, artificial colors and dyes and processed ingredients. Watch how to make this recipe.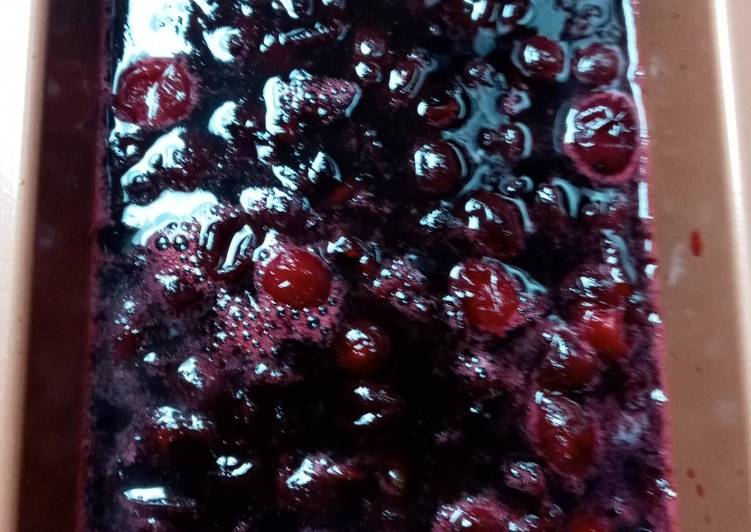 Pro tip: This sauce can be made several days in advance, so no need to worry about mixing this up on a busy Thanksgiving afternoon. This classic cranberry side dish with a hint of orange and vanilla is a must-have for any turkey dinner! Combine all ingredients in a saucepan and bring to a simmer. You can cook Homemade Cranberry Sauce Batch 2 using 6 ingredients and 5 steps. Here is how you achieve that.
Ingredients of Homemade Cranberry Sauce Batch 2
It's 12 ounces of whole cranberries.
It's 1 teaspoon of kosher salt.
You need 1 cup of light brown sugar.
It's 2/3 cup of maple syrup.
You need 3 envelopes of unflavored gelatin.25 ounce each.
It's 2 cups of unsweetened pure cranberry juice.
Cook until cranberry skins begin to burst. Taste and add more molasses, if necessary. Serve warm or at room temperature. In a small saucepan over low heat, combine sugar and water until sugar dissolves.
Homemade Cranberry Sauce Batch 2 instructions
In a pot add the measured cranberry juice. Start heating. Add in the cranberries..
Add the salt stir and cook. Stir in the sugar and syrup..
Let it boil till the berries burst. Carefully stir in the gelatin..
Get the pan or mold ready and pour hot mixture in it. It is gonna steam, when the mixture cools enough to stop steaming put into freezer or the fridge..
When it turns solid about 1-3 hours. It will be ready. Serve I hope you enjoy!!!.
Stir in orange zest and a pinch of salt. How to make homemade whole berry cranberry sauce: Both whole berry and jellied cranberry sauce begin the same way. By combining the cranberries, sugar, and water in a medium sauce pan over medium heat on your stove top. Give everything a good stir and bring to a low simmer. It can be used as filling for cranberry/cream cheese tarts and also makes a great topping on bagels, corn bread, or cheesecake.