Cake Banana Bread. In large bowl, beat yellow cake mix, eggs, and bananas until well mixed. Fold in chocolate chips and sprinkles. Transfer batter into prepared loaf pans and smooth tops with a spatula.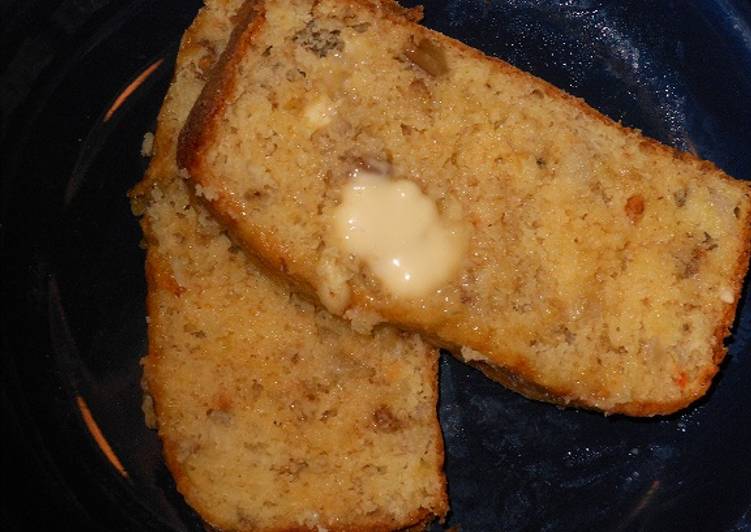 To make banana bread using cake mix, you really need to use bananas that are fully ripe or overripe. With ripe or overripe bananas you get fruit that is super easy to mash up and incorporate into the banana bread batter. They're also sweeter and have a great banana aroma which leads to even better banana bread. You can cook Cake Banana Bread using 5 ingredients and 3 steps. Here is how you achieve it.
Ingredients of Cake Banana Bread
It's 5 small of ripe bananas, mashed.
It's 1 box of yellow cake mix.
Prepare 3 large of eggs.
It's 1/3 cup of vegetable oil.
It's 1/3 cup of chopped nuts (pecans or walnuts).
This one is not it. "Banana Cake" is misleading because it did not have a cake-like texture to me. It was yet another average bland banana bread recipe. The exterior gets too overdone and brown while the inside was rather dry. Coffee Cake Banana Bread is sure to be a new favorite!
Cake Banana Bread step by step
Preheat oven to 350°F.
In large bowl mash bananas and add in mix,oil,eggs and nuts combine well. Spray loaf pans(the type you use for bread/meatloaf)with baking spray or reg spray then lightly flour so loafs do not stick.
Bake for 45 minutes. Let cool then remove from pans. Serve warm with butter, or can make a powder sugar icing and drizzle over top.
This classic banana bread recipe is topped with a sweet crumb topping making it a cross between a quick bread and coffee cake! This Coffee Cake Banana Bread recipe is always a crowd pleaser and makes a fantastic holiday dessert! Cake Mix Banana Bread is a an easy cake mix hack dessert treat that you can serve for brunch or dessert, made from cake mix and super ripe bananas. The richness of the cake mix blends perfectly with the banana flavor and makes for a treat you can enjoy for breakfast or even dessert. Banana bread is essentially a banana cake, made just like any other cake with the same basic ingredients (butter, sugar, eggs, flour, chemical leaveners) and the addition of mashed bananas.