Fat cakes (vetkoek). These tasty vetkoek (fat cakes) make for a lovely dinner or snack. You can make these vetkoek any size you prefer. They're a great party snack if they are made small and filled with various processed meats, tuna and mayo, syrup, curried minced meat, cheese, or basically anything you feel like.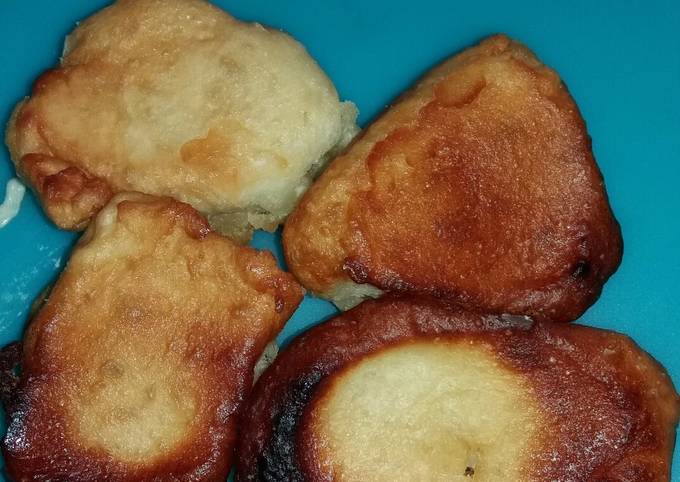 It is bread dough deep-fried in oil. It can be eat just as it is, with butter and jam, or cheese but can be filled with savoury or curried mince, biltong or anything else you think would taste wonderful. Fat cakes also known as Vetkoek (in Afrikaans) or Oukuki ( in my mother tongue Oshiwambo) are sweet, fluffy and moist deep fried dough balls. You can have Fat cakes (vetkoek) using 5 ingredients and 3 steps. Here is how you achieve it.
Ingredients of Fat cakes (vetkoek)
You need 5 cups of Flour.
You need 2 teaspoons of Yeast or baking powder.
You need 5 teaspoons of Sugar.
It's 1 tablespoon of Salt.
It's 3 cups of Water.
Fat cakes are so loved in Namibia, especially in the northern part of the country. Vetkoek is deep fried dough that is eaten as a sandwich with sausages, made into desserts and handheld snacks stuffed with meat, relish and cheeses. Options are endless when it comes to vetkoek recipes. Vetkoek has been a staple on the South African kitchen table longer than anyone can remember.
Fat cakes (vetkoek) instructions
Mix all ingredients in a bowl.
Leave it for 45 minutes to rise.
Pour 750 ml of cooking oil in a frying pan and fry till golden brown and cooked..
In a large pot heat oil. In a large bowl mix flour and salt together by hand or with a fork. Known as vetkoek in South Africa and fetcook in Zimbabwe, the treat by any name translates to "fat cakes"—and while there are slight regional differences, they all involve frying lightly sweetened batter in oil. Vetkoek, meaning "fat cake" in Afrikaans, is a South African favorite. I enjoyed vetkoek with minced springbok when I traveled to South Africa and Botswana last year.