Chocolate chip banana bread. Mix flour, baking powder, baking soda, and salt in a bowl. Stir bananas, milk, and cinnamon in another bowl. Beat butter and sugar in a third bowl until light and fluffy.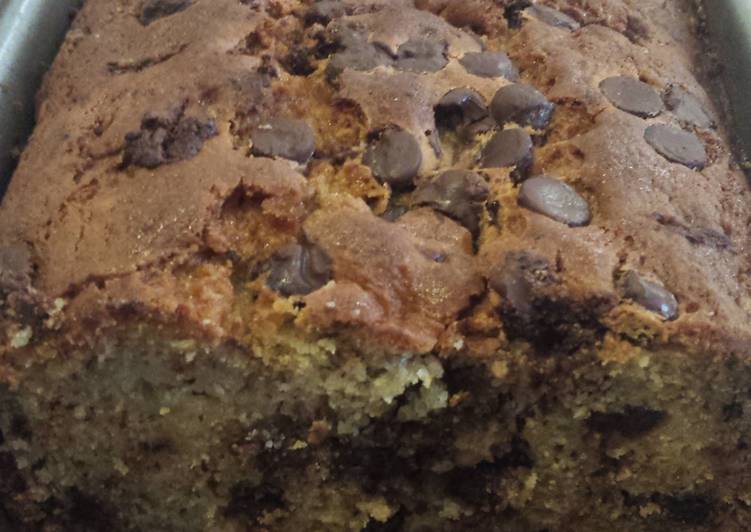 Add butter, eggs and bananas and blend well on medium speed of mixer. Stir in small chocolate chips and walnuts. Mix in mashed bananas, sour cream and buttermilk. You can have Chocolate chip banana bread using 10 ingredients and 10 steps. Here is how you cook that.
Ingredients of Chocolate chip banana bread
You need 2 cup of all-purpose flour.
Prepare 1 cup of sugar.
You need 1 tsp of baking powder.
It's 1/2 tsp of baking soda.
It's 1 cup of mashed bananas.
You need 1/2 cup of butter.
Prepare 2 of eggs.
It's 1 cup of semi-sweet chocolate chips.
You need 1/2 cup of sour cream.
It's 1 tsp of vanilla.
Combine the cake flour, salt, baking soda and baking powder. Stir flour mixture into sugar/banana mixture. This Chocolate Chip Banana Bread recipe is ultra moist because I use a secret trick! This banana bread can be made with or without the chocolate chips and is guaranteed to be your new go-to recipe!
Chocolate chip banana bread instructions
Preheat oven to 350°F..
Butter a loaf pan. Place parchment paper at the bottom so you can remove the loaf easily..
Cream the butter. Then add sugar until they are smoothly combined..
Add eggs and mix well with a standing mixer or a hand mixer..
Add vanilla..
In a separate bowl, sift the flour, baking soda and baking powder. Add this to the butter mixture..
Add bananas and sour cream. Lastly, add chocolate chips..
Put mixture in baking pan and bake for 1 hour and 10 minutes..
Take out of the oven and poke some holes with a knife so it can cool from the center. Pass the back of the knife all around the edges so it is not stick to the pan..
Let it sit for about 15 minutes, then remove from the pan and let it cool until it is at room temperature..
Make sure to try my Chocolate Banana Bread too! In a bowl, add the bananas and mash until smooth. Add in the melted butter and stir until well combined. Add the sugar, egg, vanilla, baking soda, salt, and flour, and stir until the batter is smooth. Add in the chocolate chips and pour the batter into a greased loaf pan.