Applesauce Banana Bread. Applesauce is the ingredient that can save the day when you want to make banana bread and there's not enough butter in the house. It adds moisture and tenderness, two of butter's most important jobs in this recipe. And while it doesn't have the same richness as butter, butter is not the only ingredient flavoring the bread.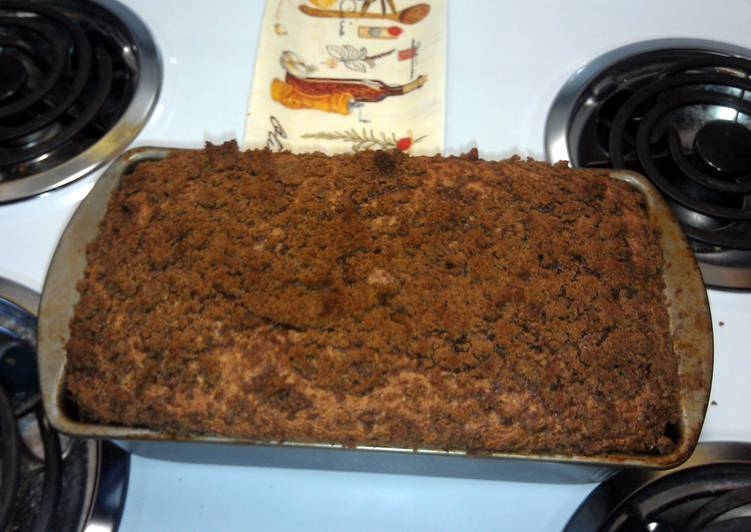 Add remaining ingredients and mix well. Mix eggs and bananas in large bowl until blended. This banana bread with applesauce is moist, yet dense, for a perfectly sliceable banana bread! You can have Applesauce Banana Bread using 10 ingredients and 8 steps. Here is how you achieve that.
Ingredients of Applesauce Banana Bread
Prepare 3 medium of bananas.
Prepare 1 cup of packed brown sugar.
You need 1/2 cup of Applesauce, unsweetened.
It's 2 large of eggs.
It's 1 tsp of vanilla extract.
It's 1 tsp of baking soda.
Prepare 1 tbsp of baking powder.
You need 1 tsp of salt.
It's 1 cup of all-purpose flour.
Prepare 1 cup of wheat flour.
Serve it with a smear of butter as a snack, part of Easter brunch, or a simple dessert! Or, gift it to someone who would appreciate a simple pick-me-up! Simply wrap it up, tie a simple ribbon and attach one of my free printables! Easy Banana Applesauce Bread is a tasty go-to healthy quick bread for the holidays.
Applesauce Banana Bread step by step
Pre-heat oven to 350°F..
Mash up bananas and place in large bowl. Stir in brown sugar and let sit about 15 minutes..
Meanwhile, grease the bottom and half-way up the sides of loaf pan. Set aside..
Add applesauce, eggs and vanilla to banana mixture and beat well..
In medium bowl, mix the flours, baking soda, baking powder and salt..
Gradually mix in flour mixture with banana mixture. Pour into greased pan..
*Optional crumb topping- in a small bowl, mix 2 tablespoons flour, cinnamon, 1/3 cup brown sugar. Cut in 1 tablespoon of butter and mix until it resembles cornmeal. Sprinkle on top of the batter before you place the pan in the oven to bake..
Bake for about 45 minutes, or until a toothpick comes out clean. Remove from oven, let stand 10 minutes, then remove from pan and let cool completely on wire rack..
A super moist, flavorful lightened up Banana Bread with no mixer needed! Easy Banana Bread is one of the best go-to Bread Recipes for so many reasons! It's delicious, made with no mixer, and all you need are one or two extra ingredients to make it extra special! Stir in eggs, applesauce, bananas and vanilla extract. Fold in raisins and nuts if desired.