Foil Wrapped Salmon with Rice & Asparagus. Place salmon fillet on center of each foil piece. Sprinkle with lemon pepper seasoning salt and salt; top with chives. Spoon rice mixture around each fillet.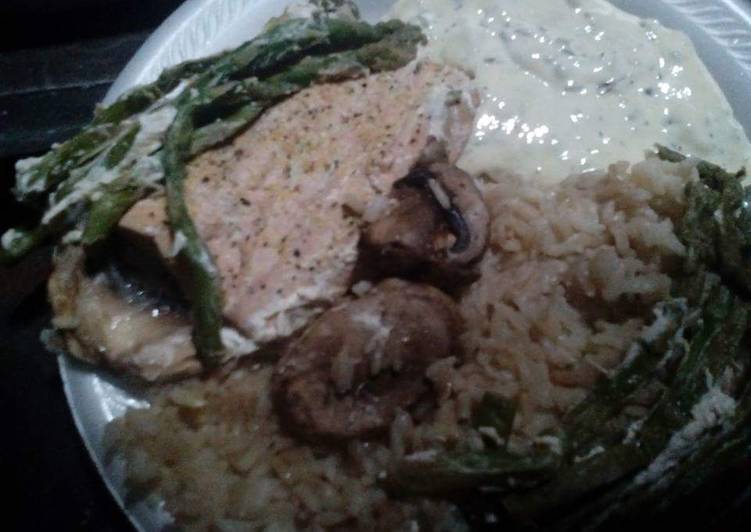 Add the trivet and set the wrapped salmon on top. Serve your Grilled Salmon in Foil on top of a bed of rice! This Lemon Rice would complement the lemon on the salmon. You can have Foil Wrapped Salmon with Rice & Asparagus using 5 ingredients and 12 steps. Here is how you cook that.
Ingredients of Foil Wrapped Salmon with Rice & Asparagus
You need of rice pilof mix(any brand).
It's 4 of salmon steaks.
Prepare of Fresh or frozen asparagus tips.
Prepare of Lemon pepper.
It's of Cooking spray oil.
Lay out the foil sheets and divide the rice mixture evenly over each foil, squeezing the water out as much as possible. I just spoon out some rice, then hold the spoon to the side of the bowl and tilt the spoon a bit to drain out the excess water. Top rice with salmon fillets; season with salt and pepper, and rub with a drizzle of olive oil. Arrange salmon slices and scallops in a. and reserve marinade.
Foil Wrapped Salmon with Rice & Asparagus step by step
Prepare rice according to package instructions..
Spray 4 sheets of aluminum foil with cooking spray.
Put 1/2c prepared rice into center of foil & pat down into a rectangle.
Put a salmon steak on top of rice.
Sprinke lemon pepper on top of salmon steak for flavor.
Top salmon steak with 4-5 asparagus spears.
Fold foil length wise to seal. Then fold or twist ends to seal packet.
Put packets seam side up in large skillet filled 1/2 inch deep with boiling water.
Cover & steam approximately 10 minutes. Checking water level every few minutes & adding water as needed.
Flip packets over & steam another 10 minutes.
Remove from skillet. Carefully open packets (hot)..
Serve with Homemade Tartar Sauce. Enjoy!.
Wrap sea scallops in salmon strips. sheet of aluminum foil over broiler rack; arrange seafood . rolls of salmon-wrapped scallops. Place salmon on top, and tightly fold ends of the rice paper up and around the salmon to make a package, like you're making a burrito. Heat a large skillet with vegetable oil. Place a large piece of aluminum foil on a baking sheet and brush with olive oil. Place salmon in the middle of the foil, skin-side down.