Pounded Yam And Egusi Soup.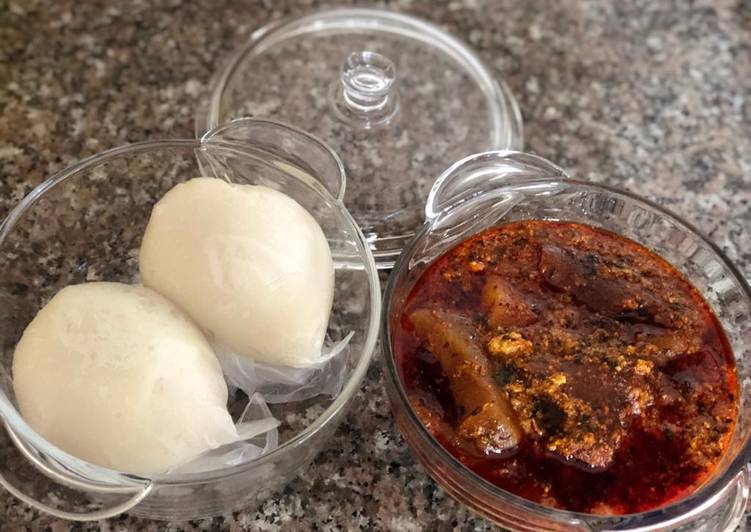 You can cook Pounded Yam And Egusi Soup using 11 ingredients and 2 steps. Here is how you achieve that.
Ingredients of Pounded Yam And Egusi Soup
You need of Tuber of yam.
Prepare leaf of Bitter.
You need of Egusi.
You need of Pepper.
Prepare of Tomato.
You need of Onions.
It's of Beef.
You need of Assorted meat.
It's of Maggi.
You need of Salt.
Prepare of Groundnut oil.
Pounded Yam And Egusi Soup step by step
For the pounded yam, peel and wash tuber of yam, dice into large chunks add water in a pot and allow to boil. When yam is soft, strain out excess water and keep aside. Put boiled yam (preferrably little by little) in a mortar and pound with pestle until soft and no evidence of lumps. Add little water (from excess water drained from yam) if Yam gets sticky and hard to pound. After getting soft lumpless texture, mould into a ball and put in Santana(transparent leather)..
For the Egusi soup, boil beef and assorted meat and set aside (keep stock for later). Cut bitter leaf and wash thoroughly. Blend pepper onions and tomatoes and add groundnut oil to fry to make stew. Add water and beef stock to fried stew, add assorted meat and beef, Maggi, salt, to taste then cover and allow to boil for 10 mins. Add Egusi and also allow to cook for 10 mins then finally your bitter leaf goes in for 5 mins. Your Egusi soup is done.