Pasta Carbonara. Stir until the heat of the pasta cooks the eggs, then serve with parsley and ground pepper. This dish is a deli egg-bacon-and-cheese-on-a-roll that has been pasta-fied, fancified, fetishized and turned into an Italian tradition that, like many inviolate Italian traditions, is actually far. Authentic Pasta Carbonara I learned on my culinary internship in Tuscany that real Italian cuisine is simpler than you think!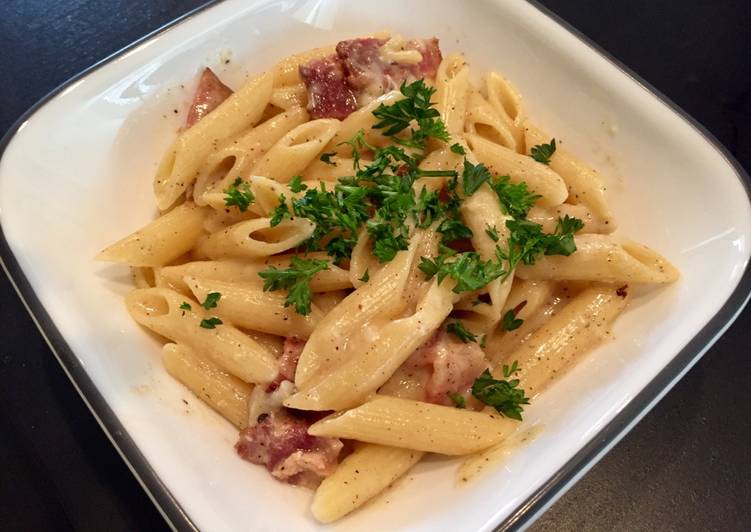 The ingredients are simple—just spaghetti (or other long pasta), and the carbonara is made with pancetta or bacon, eggs, Parmesan, a little olive oil, salt and pepper. The silky carbonara sauce is created when the beaten eggs are tossed with the hot pasta and a little fat from the pancetta or bacon. In a large pot of salted boiling water, cook spaghetti according to package directions until al dente. You can have Pasta Carbonara using 7 ingredients and 6 steps. Here is how you achieve that.
Ingredients of Pasta Carbonara
Prepare 1 pound of peppered bacon (from the butcher), cut into 1/4-inch pieces.
You need 4 of eggs.
You need 1 cup of grated Parmigiano-Reggiano cheese.
You need 1 cup of grated Romano cheese.
Prepare 1 pound of pasta of your choice.
You need 1 teaspoon of ground black pepper, or to taste.
Prepare 1 cup of reserved pasta water, more as needed.
In a medium bowl, whisk eggs and Parmesan until combined. Drain pasta, leaving some water clinging to it. Working quickly, add hot pasta to egg mixture. Add bacon; season with salt and pepper, and toss all to combine (heat from pasta will cook eggs).
Pasta Carbonara step by step
Cook bacon until it has reached desired crispiness..
Whisk eggs, Parmigiano-Reggiano cheese, Romano cheese, and ground black pepper in a bowl. Set aside..
Bring a large pot of lightly salted water to a boil. Cook pasta in the boiling water, stirring occasionally until cooked through but slightly firm to the bite. Drain, reserving 1 cup of the pasta water..
Combine 1 cup of reserved pasta water and drained pasta with the bacon; stir to combine..
Slowly pour egg mixture into the pasta mixture; cook, stirring constantly until the egg mixture forms a thick sauce, 1 to 2 minutes. Remove from heat..
Serve with parsley and enjoy!.
Serve immediately, sprinkled with additional Parmesan cheese. Pour the egg mixture over the pasta. Toss rapidly to coat the pasta without cooking the egg. Remove the pan from the heat and add a big handful of cheese, lots of pepper and a little salt. Garnish with parsley and extra grated Romano.